Merry Christmas and Happy Holidays!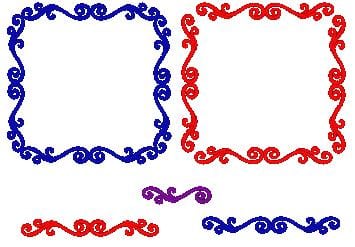 I have a gift for you that will be very helpful in your embroidery business. This is a Scroll Border pack that I digitized for you to use in creating borders for monograms.
The square borders are about 7″ x 7″. I am giving them to use in 3 different formats depending on what software you are using.
I am including a .pxf file for those that have the newer versions of the Tajima by Pulse software, the .pof version for those that have version 9 of the Tajima by Pulse software and the .dst file for anyone that does not have the Tajima by Pulse software.
If you have a resizing program you can resize them to fit any size monogram that you create. I also have used the square one on pillows as a border around the edge of the pillow and then added the monogram inside of the border.
Merry Christmas, Enjoy the borders!
Joyce Jagger,
The Embroidery Coach