How To Embroider Small Letters That Sew Out Crisp & Clean Using Your

Embroidery Fonts?
Are Your Sick And Tired Of Struggling With The Small Letters
In Your Embroidery Designs?
Does This Ever Happen To You?
Your design does not look the same when you sew it out on the different types of fabric!
Your small letters look like they are punching holes in the fabric!
Your small letters embroider too thin!
Your small letters embroider too thick!
When you embroider small letters, they appear uneven but they look even on the screen!
You have issues with your embroidery fonts!
The centers of your small letters close up!
Your 4 millimeter letters do not look crisp and clean!
Making adjustments in the lettering recipes or styles wizards is very confusing!
The embroidered small letters sink into my fleece fabrics!
The small letters look saw toothed! They are not smooth on the edges!

As an embroidery business owner myself, I know what it is like to suffer through trying to embroider small letters!
Each time that it did not turn out to my satisfaction, I felt like a complete failure. It seemed so simple and yet I just could not seem to get it the way that I wanted it to look.
I attended many workshops at trade shows and trained with some of the best embroidery software trainers and digitizers and it seemed like I could never get all of the right information to make my lettering look as good as theirs! Were they holding back some of the little tips and tricks! What was my problem?
I spent many hours on every single line of lettering that I tried to create and it was a huge waste of time! There had to be an easier way!

I am Joyce Jagger, The Embroidery Coach and I am here to help you get your own embroidery business started quickly and make it easier for you so that you can avoid a long learning curve! My passion is to help you improve your embroidery skills so that you can provide higher quality products and increase your embroidery business profits!
As a former owner of a profitable embroidery business I am now in the business of helping embroidery business owners take your current embroidery business to a higher level. I have helped many embroidery business owners turn their struggling businesses into a business that they could be very proud of.
I have worked with brand new embroiderers getting them started on the right path from day one and they have created very profitable embroidery businesses! I have spent over a decade helping other embroiderers increase their profits. An embroidery business can be very lucrative when you have the right systems, approach and tools in place!
Are Your Sick And Tired Of Struggling With The Small Lettering


In Your Embroidery Designs?
Without a foolproof way to set up your small lettering you are wasting a lot of valuable time that you could be spending running your machine and really making money! Your embroidery design should look exactly the same when you are finished regardless of what fabric you are embroidering your small letters on. Without the right settings and techniques, this is impossible!
I know how it is to change needles, change threads, try to adjust my tensions and do sew out after sew out and it just does not come out the way that I want it. It was so frustrating! I know what you are going through!
Introducing: How To Embroider Small Lettering That Sews Out Great




On All Types Of Fabrics!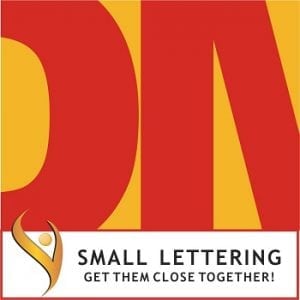 I have created a home study course that I am so excited about called "How To Embroider Small Lettering That Sews Out Great On All Types Of Fabrics!" I finally discovered the way to Keep it Simple and yet extremely effective!
In this home study course I show you step by step how to set up and embroider your own small letters with all of the correct settings that will work for many different types of fabrics. My easy method will save you valuable time and give you great looking lettering every single time. These are techniques that will work in any brand of embroidery design software that has an editing function. You must learn how to edit in order to be able to offer high quality designs that will keep your customers coming back for more and I show you a lot of those techniques inside of the videos in this course.
Learning To Embroider Crisp Clean Small Lettering Is Not Hard!
The methods that I teach and the illustrations and files that I share are simple and easy to follow so that all embroiderers, new and seasoned can understand and remember! All of the above problems and many more are answered in my "How To Embroider Small Lettering" Home Study Course!
Learning how to embroider great looking small lettering is not hard once youunderstand the logic behind each step. I go over this with you step by step so that you can easily understand it and learn how to change the settings for each type of fabric.
Before I understood it I had to either pay to have all of my small lettering set up or spend hours setting up each line to my satisfaction. I had to keep experimenting and creating more sew outs until I was happy. I was so frustrated and determined that I was going to grasp this so I went out searching for someone that could help me!
I then had the privilege of spending a week, at a very high cost, with one of the best digitizers and instructors in the embroidery industry! He taught me the theory behind how to embroider small letters and this is what I was missing all along! I finally had all of the information that I needed to be able to embroider my own great looking small lettering! This is exactly what I teach you at a fraction of the cost!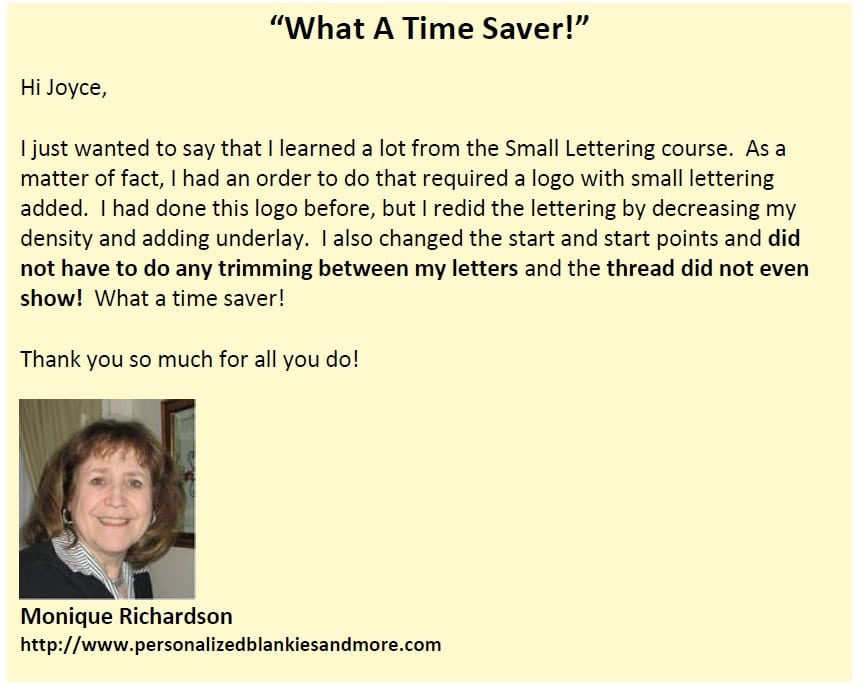 Some Of The Fantastic Benefits You Will Receive

After You Have Learned The Secrets Of How To

Create Crisp Clean Small Lettering!
Saves Time!
You learn the tips and tricks that I use to set up to embroider small letters so that you can do it quickly saving a huge amount of time!
The finished Design looks the same on all types of fabric that you are using for your sew outs!
I share with you the settings that I use for the different types of fabrics so that you can quickly duplicate what I do and it will look the same whether you are on a stable woven fabric or a soft knit.
Your will be able to produce production friendly designs!
Your designs will take less time to sew out, have fewer thread breaks and less trimming!
You will be producing higher quality designs.
Your customers will love your new designs and will send you more work!
Your Designs with Small Lettering can look great every time!
When I said saves time, I mean just that! Regardless of the fabric, you can go into your software, make simple adjustments for the different fabrics and even on the "Moisture Wicking" fabrics!
Match Customers Logo!
You will be able to match a customers logo lettering once you learn how to edit the text to match! I will teach you that technique!
Increase your bottom line!
Taking less time to set up and embroider small letters will help to increase your weekly profits!
Can you afford not to know how to create small lettering for your embroidery designs? Learn the Secrets of How To Embroider Crisp Clean Small Lettering for all of your embroidery designs and embroidery design setups!
Here Is A Quick Overview Of What You Will Be Receiving When You Purchase The "

How To Embroider Small Lettering Home Study Course!"
Video – Part 1-Common Issues With Small Lettering– I explain the issues, how to correct them, how to adjust fabric recipes and styles for small lettering and how to fix underlay stitching that is missing in parts of the letters.
Video – Part 2- Basic Rules for Small Lettering -I teach you the many rules that need to be adhered to, to create crisp clean small lettering.
Video – I show you how to work with fleece & heavy towels to get sharp clean small lettering, how to open up centers of tiny lettering, and I go through many applications and I share my favorite backing recipes with you that work great for small lettering.
Video – Part 3-Editing Text for Production -I show you how to create small lettering that you do not have to trim between each letter and yet not have the threads show.
Video – Editing Text For Customers Logo
You will learn how to edit a standard embroidery font to match your customers logo lettering.
Written Documentation of my presentation
Bonuses!
Cheat Sheet – Basic Settings for Knits & Woven Fabrics!


Check List – Checklist for Creating Quality In Designs!
I created the "How To Embroider Small Lettering Home Study Course Especially For Embroiderers Like You So That You Too Can Easily

Create
Great Looking Small Lettering!
I do not want to see you suffer any longer! I have been there and done that! It is a huge waste of time and when you are sitting there behind that computer struggling for so long, YOU ARE NOT MAKING ANY MONEY!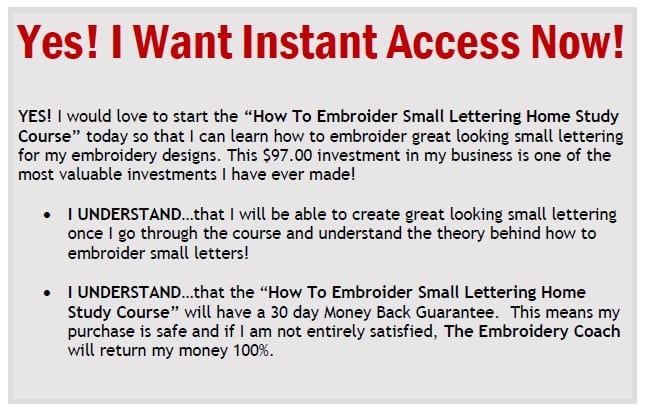 I want you to get started creating small lettering for all of your embroidery designs. That is why I've put so much time and effort into creating these videos and materials for you to work with. This is exactly what you need to help make your embroidery business stand out from the crowd!