FREE Embroidery Tips from a 30+ year Veteran …
"Discover the Secrets to Easily Price Your Embroidery, Organize your Day to Day Schedule and Market Your
Embroidery Business!"
Fill In Your Name & Primary Email Address & I Will Send You Your Free Embroidery Tips and News from The Embroidery Coach that is
pertinent to your interest.
Joyce Jagger, The Embroidery Coach, featured in "WearablesMagazine" shares with you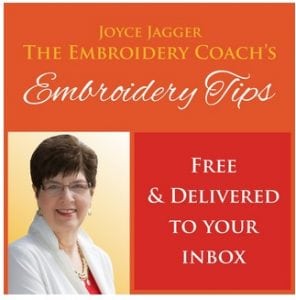 many Free Embroidery Tips that she has discovered over her 30 plus years of being on the inside in this wonderful world of embroidery!
The #1 Strategy Holding You Back!
3 Simple Ways For Customers To Find You!
How To Overcome Overwhelm!
And Much Much More!