Warning: Too many embroidery business start-ups fail because they didn't do their homework first. If you want to successfully start an embroidery business' watch this video NOW!
How To Start An Embroidery Business!
Does This Sound familiar?
You have been doing embroidery at home and have discovered that you want to start your own embroidery business but you just do not know where to start! You are tired of the corporate world that you have been stuck in for so long and you want to get out of that trap! Starting your own embroidery business has been a dream of yours for such a long time but you do not know who to turn to, to help get you started! Maybe you have already started your embroidery business, or are in the process of starting it, but you are not having the success that you were expecting in the area of your embroidery, or pricing or marketing. If that is the case, you really need to pay attention to what I am about to say!
You own an embroidery machine but it is sitting there collecting dust because you are not sure how to even start using it!
You have been doing a lot of embroidery projects at home, but your embroidery designs are not sewing out like you expected! A circle looks like an egg!
You are not sure what kind of embroidery stabilizer or embroidery backing to use on the different types of garments!
Your embroidery machine just ate up a shirt!
You see holes in your garments after you finish the embroidery!
Your design does not look the same on the moisture wicking or stretchy fabrics!
Your shirt is puckered after you finish the embroidery!
You have no idea as to what to charge for your embroidery!
No one even knows that you do embroidery! How do you change that?
How Do You Get The Help You Need To Start Your Own Embroidery Business?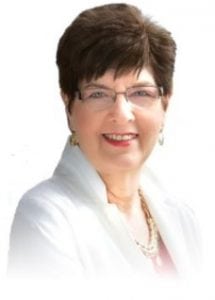 I am Joyce Jagger, The Embroidery Coach and I am here to help you get your own embroidery business started quickly and make it easier for you so that you can avoid a long learning curve! My passion is to help you improve your embroidery skills so that you can provide higher quality products and increase your embroidery business profits! As a former owner of a profitable embroidery business, I am now in the business of helping you start your own profitable embroidery business or help you take your current embroidery business to a higher level. I have helped many embroidery business owners turn their unprofitable businesses into a business that they could be very proud of.
How Am I Qualified To Teach You How To Start An Embroidery Business!
You may have heard of me or you may know nothing about me and why I am qualified to teach you about How to Start an Embroidery Business! I have NOT always been a success. At one point in my business, I almost lost it all because of the mistakes that I was making, so I just wanted you to know that whatever you are going through or have been through, I have already been there and done that! With the help of my accountant, I was able to turn it around and create a profitable business! I know a profitable embroidery business can be created and when you take the right steps it happens much quicker!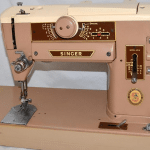 Almost 40 years ago I started my own embroidery business as a result of a good friend asking me to put a name on some jackets. It was a very frustrating process at the time because I only had a home sewing machine, I had no idea as to how to start a business or even how to embroider, but after struggling through it, I really liked the end result and so did my friend. After I finished the names on those jackets, I decided that this just might be a good way to bring in some extra cash! After doing a little investigating I found out that there was no one in our area that was offering this type of service. That was the beginning of my long career in this wonderful world of embroidery.
Can I Make Money With An Embroidery Business? Yes, YOU Can!
You may be like so many other people that want to start your own embroidery business but in the back of your mind you may be thinking, OK, that worked for her, but what about me?
I have never had a business! Will I be able to do this?
Can I make money with an embroidery business?
Where can I get the help that I will need to get me started?
Starting my own embroidery business was not planned in any way, but when my friend asked me to embroider the names on those jackets, I discovered that I enjoyed it very much!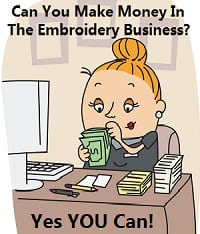 He knew that I loved to sew and create gift items so he thought maybe I would be interested in putting names on school jackets.That was the beginning of a very small embroidery business that started in my home but grew very rapidly. I did no preparation and had no idea how to run a business.
I loved what I was doing and it did not seem like work! I wish I had had someone like myself to help guide me through the ins and outs of starting an embroidery business instead of struggling and finding my own way. I spent many long nights and stressful days working out all of the processes to turn my business around to make it profitable.
I now share all of the knowledge and processes to work with brand new embroiderers to get them started on the right path from day one. Many have created very profitable embroidery businesses! I am proud to say that I have spent over a decade helping other embroiderers increase their profits. An embroidery business can be very lucrative when you have the right systems, approach, and tools in place! I am here to help you create those systems and make it easy for you to turn that dream into a reality!
Building an embroidery business does not have to be so hard! Don't try to do it all alone

!




We Are In This Together!
Imagine…
The feeling of excitement when you open for business and that first customer walks through the door!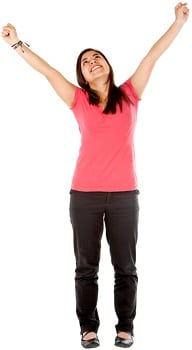 The wonderful feeling you will have when that first customer walks out with a smile on her face so pleased with what you were able to create for her! Having The Embroidery Coach there to guide you through each step of the process!
All of this is possible…
When you have The Embroidery Coach there to teach you the fundamentals of embroidery and how to price and market your embroidery with confidence! Building your own embroidery business can be exciting and overwhelming at the same time! There is so much to do, so much to learn and so many areas to prepare for before you can even open the doors for business. The right embroidery business training will shorten your learning curve and help avoid that overwhelming feeling to get you up and running quickly! You need:
To know what kind of embroidery backing/stabilizers and toppings to use on all types of fabrics
To know how to hoop many different types of items.
To know which embroidery needles to use for what fabrics
To learn how to fix embroidery mistakes
The right Business Forms to use for all areas that are created for the Embroidery Business!
A List of Suppliers
The Embroidery Coach to be honest with you and help you KEEP IT SIMPLE!
And a whole lot more!
"Introducing:

How To Start An Embroidery Business!"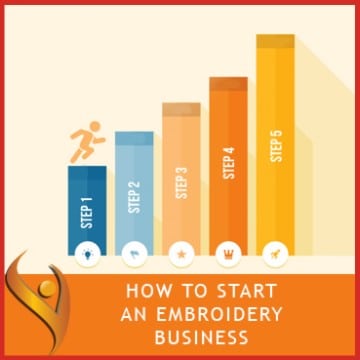 How To Start An Embroidery Business is an online video training program to teach you the fundamentals of how to start an embroidery business. You will have all of the basic information that you need to get started in your embroidery business 24 hours a day, 7 days a week! I include listings of all of the basic equipment, tools, supplies, and software that you will need to get started.
Module 1 – Planning Your Embroidery Business
In this module, you will do all of your Preliminary planning for your embroidery business. I will also show you how to:
Go Over 20 Step Process
Set Your Goals
Research for your Equipment and Software
Plan & Organize each area of your business & Configure your Floor Space & Create your Floor Plan
Module 2 – Pricing Your Embroidery
In this module I will teach you the basics of Pricing. I show you how to:
Create an Embroidery Price List
Keep Track of & Schedule all of your Production
I include formatted forms that you will use to fill in the blanks! Our videos show you step by step how to fill in all of the right information!
Create Your Projections & Cash Flow Statement
Module 3 – Marketing Your Embroidery
In this module I teach you how to:
Start Marketing your business on the local level!
Select your Market Niche
Create your Marketing Materials
I include all of the forms that you need to use to create your Marketing Plan!
Module 4 -Creating Your Business Plan
In this module I teach you how to Create:
Your Working Business Plan
12 Months Marketing Plan
Add Your Projections & A Cash Flow Statement
Put your information altogether to make it work!
Module 5 – High-Quality Design Techniques
In this module I go over the basic design fundamentals of creating your designs. There is more to it than pushing buttons in your embroidery design software to create a beautiful finished embroidery project! You need to totally understand the concept of:
Embroidery Pull Compensation & Underlay Stitching
Other Design Techniques that you need to know to make your designs sew out great!
Bonuses Included!
No 1: Step by Step Planning Guide
No 2: Complete List of all Tools & Accessories Needed
No 3: Complete List of all Supplies Needed
No 4: List of Supplies
No 5: Planning Sheets
No 6: Order Process Manual
No 7: All of the Business Forms you will need to run your Embroidery Business!
No 8: FREE Access To The Embroidery Training Resource Center Members Area  "Embroidery Basics!"
No. 9: FREE Access To The Embroidery Training Resource Center Members Area "Embroidery Techniques!"
The Embroidery Training Resource Center- Basic Embroidery Techniques!
You will receive

easy to understand instructions

that include many application techniques…such as:

Hooping Your Embroidery – You are taught basic hooping and how to properly hoop knit garments, woven garments, and even many un-hoopable applications! Basic hooping techniques must be learned before you start using the hooping devices.
Em

broidery Backing & Toppings – You are given very specific guidelines for selecting the right backing/stabilizers to use for each of the different fabrics. There are 3 categories for backings/stabilizers. It is important to understand all 3 and know how to use each one for the different type of applications and fabrics!


Favorite Embroidery Backing Recipes – I even share with you my favorite backing/stabilizer recipes for most fabrics along with the Style Numbers of each one and the source for my backings to make it easy!
E

mbroidery Hooping Guidelines – Easy to follow guidelines with pictures showing you many garments along with what backing & needles to use for different types of garments avoiding mistakes!


Embroidery Placement – A Placement Chart for the Left Chest or Right Chest embroidery design applications and Guidelines are given for placement for all of the most popular applications on garments as well as linens!

Embroidery Finishing – How to finish a garment to create that quality presentation whether it is a sample or a completed order for a customer! Finishing a garment properly is huge in how your customer will receive your quality!
"Simple Step by Step Instructions For Embroidery Repairs!"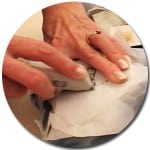 I give you simple step by step instructions on how to repair those horrible mistakes that we all try so hard to avoid! Unfortunately, everyone makes a mistakes now and then, but you need to know how to save those expensive garments when mistakes to occur!

Repair almost any mistake instead of starting from scratch! Sometimes you have garments that cannot be replaced! It is very important to have the skills to be able to fix these mistakes just in case you have items that cannot be replaced.


Replacing Embroidery– After the embroidery is removed, the area must be prepared to receive the new embroidery. I show you how to line up your new design to entirely cover where the original design was located. If done correctly, you will not see any trace of the old design that was previously embroidered.


The Garment fell out of the hoop during embroidery – This is a biggy! I cannot tell you how important it is for you to know how to take care of this issue. Unfortunately, this can happen to the best embroiderer and you must know how to re-hoop the garment and lineup the remainder of the design so that you will continue on in the perfect spot to finish the embroidery!


Embroidery Bobbin Thread showing on top– Some bobbins change tension as they are embroidering close to the end of the bobbin and some of the white bobbin thread will show on top. I show you how to cover up those ugly white stitches that you obviously do not want to see!
These videos alone are worth hundreds of dollars. The amount of money saved on one job alone could easily pay for the program!
How Do I Know If This Is Right For Me?
If you are new to embroidery but want to get a Quick Start with your Embroidery Business and start making money this is for YOU!
If you want to start your own Embroidery Business and DO NOT want to go through a long learning curve, this is for YOU!
If you are struggling trying to get your business started, this is for YOU!

If you do not understand the settings

that you need for your designs so that you can create high-quality embroidery, this is for YOU!

If you are not happy where you are. This is for YOU!
If you want to take the action needed to improve your designs and build your business, then this is for YOU!|
For an investment of $497.00, you will have access to all of this information at your fingertips to watch, learn and implement 24 hours a day, 7 days a week! As a member of the Embroidery Training Resource Center, you can also be included in our monthly webinar.