"Would You Like To Know How To Apply Pull Compensation To Your Embroidery Designs To Give You Those High Quality Designs That Make You Stand Out From The Crowd!"
Are You Confused About How To Use Embroidery Pull Compensation
Or If You Should Use It?
Dear Embroiderer and Friend,
As an embroidery business owner and digitizer myself, I was so confused and did not know how to get the answers to the questions that I needed! I attended several workshops at trades hows and spent many hours experimenting with different settings in my embroidery software before I finally was able to understand and grasp the concept of using Push and Pull Compensation. Until I fully understood how to create Embroidery Pull Compensation and apply it to my embroidery designs and learn how to cope with the issues of Push and Pull, creating a single embroidery design to my satisfaction took many hours and was extremely stressful.
Isn't It Time For You To Learn How To Adjust The Settings To Apply The Right Embroidery Pull Compensation To Your Embroidery Designs So That You Can Create The Outstanding Designs That Will Make Your Customers
Want To Come Back For More?

I am Joyce Jagger, The Embroidery Coach and I help embroidery business owners that are ready to take massive action to shift their embroidery business into high gear! Through on line embroidery business training and one on one coaching:
I help you avoid pitfalls!
I help you the fundamentals of creating your designs!
You will discover easy steps to follow on your path to success!
As a former owner of a profitable embroidery business I am now in the business of helping you start your own profitable embroidery business or help you set up systems to take your current embroidery business to a higher profit level. I've spent over a decade helping other embroiderers get started and increase their profits. Embroidery can be a very lucrative business when you have the right systems, approach and tools in place!
Now it is your time to start realizing the type of business you have always dreamed of. You have been waiting long enough for the help to get you to that next level.The wait is over!
You have your machine, you even know how to use it. You've started your business' but you're having some problems with your basic design setups! They just do not have the crispness or the look of quality that is so important in trying to build your business and get repeat business!You know that you need to learn how to apply the embroidery push and pull compensation but you really do not know where to begin! It can be so confusing with so many choices in your software!
Here are a few of the issues I had with my designs
that were very troubling to me!


Can You Relate To Any Of Them?
I constantly wondered why a design did not look the same when I sewed it out on different types of fabrics!

My round circles ever look like ovals! They look round on the screen, why don't they sew out round!

Sometimes my lettering would sew out too thin or too thick

and I did not know what to do about it!

My lettering would not sew out even

but it

appeared to be even on the screen?

My squares looked great on the screen but they pushed out at the corners and no longer looked like squares!
Once I learned the secrets of how to create and apply the push and pull compensation to my embroidery designs, it opened up a whole new world for me and I was able to create designs that my customers loved and they sewed out great! You can do this too!
"Introducing:

Learn The Secrets Of How To Create And Apply Pull Compensation
To Your Embroidery Designs!"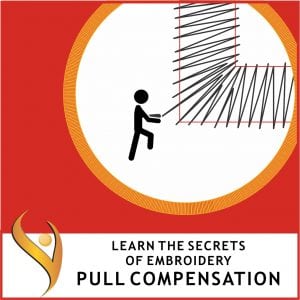 Learning how to use Push and Pull Compensation in your embroidery designs is critical to the embroidery business owner that wants to produce the type of designs that really make them stand out from the crowd! You will discover why you need to use Embroidery Pull Compensation and what settings to use for your different situations, fabrics and design applications. Learning to understand the concept of Push and Pull will help you to create designs that will sew better, look better and make your whole life embroidery life a lot easier!!!
Learning to understand Embroidery Pull Compensation is not hard. The methods that I teach and the illustrations and files that I share are simple and easy to follow so that all embroiderers, new and seasoned can understand and remember! All of the above questions and many more are answered in the "Learn The Secrets Of How To Create And Apply Pull Comp To Your Embroidery Designs" online Video Training Program that is available to YOU 24 hours a day, 7 days a week!
"Read What Some Of My Students Are Saying About The Embroidery Training Classes!"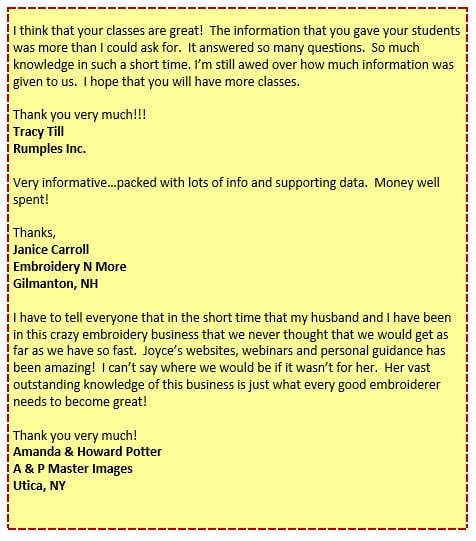 What Is Included in this Online Training Program?
Written Documentation of my presentation.
The theory of Push & Pull Compensation and what it actually is.
How to Create Pull Compensation.
How to Apply the different settings to many fabric types.
I give you the actual settings to use.
Design Files to sew out so that you can see how Pull Compensation makes a difference!
A small investment of only $97 will provide you with all of the information needed to add Embroidery Pull Compensation in your embroidery designs to produce the type of designs that you will be proud of that will bring in more repeat customers!
Don't Wait Another Second!
Order Your Copy Of This Amazing "

Learn The Secrets Of How To Create And Apply Embroidery Pull Compensation To Your Embroidery Designs"

On-line Training Program TODAY!
---
The 100% Risk-Free Embroidery Coach Guarantee:

Don't Wait Another Day!
P.S. Can you afford not to know how to apply Pull Comp to your embroidery designs? Learn the Secrets of How to Create and Apply Pull Comp to all of your embroidery designs and embroidery design setups! Click Here to learn these secrets!
P.P.S. I want you to get started creating the proper Pull Comp and adding it to your embroidery designs. That is why I've put so much time and effort into creating these videos and materials for you to work with. This is exactly what you need to help make your embroidery business stand out from the crowd! Click Here to Order Now!