Before you buy another machine,
Before you open the doors,
Before you even think about starting your own embroidery business,
Before you are forced to close down your embroidery business…
Discover The Truth About
Embroidery Business Success!
"7 Elements To A Highly Profitable Home-Based
Embroidery Business"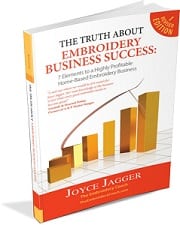 A Comprehensive Embroidery Business Guide to help you run your
Embroidery Business!
Available Now In A Downloadable EBook Version
$7.00

Hi Embroidery Business Owner,
Starting a new embroidery business is not easy. It is very exciting, but it can be extremely overwhelming with all that you need to learn in a very short time.
When I first started my embroidery business, I did not have any type of an embroidery business guide to help me get started and I made so many mistakes. There are so many key elements that I did not understand, that need to be set in place before you can become profitable. I wrote this embroidery business guide to:
Help you create a Working Business Plan

Help you set your Goals

Help you create your Marketing Plan

Show you how to Price your Embroidery and Products

Help you find a Niche or your very own corner of the embroidery world

Help you get Organized and create a Good Work Flow

Show you how to find good Dedicated Employees

Help you create an Action Plan that is so vital to your business!
My passion is to help you get off to a fast start! There is no reason why you should start your embroidery business without sufficient knowledge that will help you succeed right from the very beginning.
If you are someone that has already started your own embroidery business and is not having the type of success that you had envisioned, then this embroidery business guide will help you get on the right path to developing your own profitable embroidery business.
See the Table of Contents Inside




"The Truth About Embroidery Business Success"
Chapter 1 – Planning Your Day – Setting Your Goals – Planning Your Business


Create a Simple Working Plan that is a true Roadmap or Guide for YOU to follow

Chapter 2 – Create A Full Off Line And On Line Marketing System


A Plan & Method of Staying in Touch with Current Customers




A Plan to Create Many New Prospects and Customers

Chapter 3 – Knowing How To Price Your Products or Services For Profit


Develop a Total Pricing Structure to Cover Every Pricing Scenario in Your Business

Chapter 4 – Carve Out Your own Niche Market


Branding Yourself a Specialist in a Specific Market is Very Important

Chapter 5 – A System to Organize and Manage Your Embroidery Business


The Efficient Floor Plan and a Paper Workflow

Chapter 6 – Find and Maintain Good Dedicated Employees


Good Employees are the Life Blood of Your Growing Embroidery Business

Chapter 7 – Invest In Yourself And Your Education


A Key Element to Your Embroidery Business Success

Chapter 8 – Develop Your Action Plan


Get Started on Your Journey to Creating a Highly Profitable Embroidery Business
"Joyce Jagger's vast familiarity with the genre and the business helped me become not just an embroidery machine operator, but an accomplished embroiderer and business owner. She has a tremendous amount of knowledge to share and truly cares about your success."
Bob Dandurand
Elite Skate and Embroidery
Warrick, RI
Click on the link below to purchase your copy of this Embroidery Business Guide TODAY!


Amazon BEST SELLER!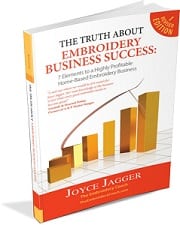 What This Embroidery Business Guide Is NOT!
This is not a book about embroidery! This is strictly an embroidery business guide! Having the business skills to run your Embroidery Business is very important. This book has the same basic business-building information that any other business book has, but it has been written for the embroiderer with many tips that will help you with the operation of your embroidery business!
If you are looking for information about how to embroider, you will need to go to  EmbroideryBusinessAcademy for the information to learn how to embroider!
Don't miss out on your chance to purchase this highly informative getting started embroidery business guide and start planning for future growth and profit in your own embroidery business!
Joyce Jagger
The Embroidery Coach