Introducing: "Learn The Secrets Of Embroidery Underlay Stitching!"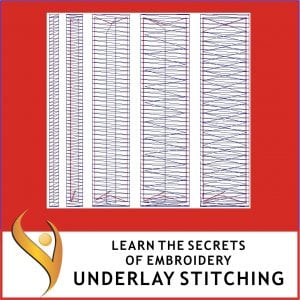 "Learn the Secrets of Embroidery Underlay Stitching" is an online video training program teaching you exactly what you need to know about creating the correct embroidery underlay stitching for all of your basic embroidery design setups and more advanced digitized embroidery designs.
Learning to understand Underlay Stitching is not hard.  The simple methods that I teach and the illustrations and files that I share are easy to follow so that all embroiderers, new and seasoned, can understand and remember!
Learning how to use Underlay Stitching in your embroidery designs is critical if you want to produce the type of designs that really make your business stand out above the crowd!  You will discover why you need to use Underlay Stitching and what settings to use for your different situations, fabrics and design applications.
Leaning to understand the concept of Underlay Stitching will help you create designs that will sew better, look better and make your whole embroidery life a lot easier!