"Simple Embroidery Sales Tools"
"The Embroidery Tools That Helped Me Save Time And Cured My Frustration Of Waiting On Customers!"
Are You Sick And Tired Of Spending So Much Time Waiting On Customers
And They Cannot Seem To Make A Decision? 



Is It Killing Your Production Time?
Dear Embroiderer and Friend,
As an embroidery business owner and the main person that needed to get the production done, I was very frustrated and did not know how to get it all accomplished with all of the interruptions.  When customers came into my shop to place an order, they always depended on me to help them make the final decision as to what they should order.  They never knew what they wanted and would take forever to make a decision.
Until I fully learned how to work with customers that saved me a lot of time working with new customers took many hours and was extremely stressful.I started one my one creating some simple embroidery sales tools to use to save time and help them make a quick decision.  It was amazing! 
Do you find yourself frustrated when you have to stop to wait on a customer?  Is your customer ordering process taking up too much of the time that you need to spend on your production?  Helping customers make quick ordering decisions can sometimes be very frustrating.
I Know How It Feels To Work So Hard, To Continuously Struggle, And Not Have
Any Idea As To How To Solve My Many Issues! 
Can You Relate To That?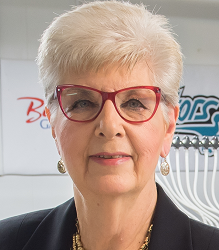 I am Joyce Jagger, The Embroidery Coach, and after many frustrating months of trying to figure out what to do,  I developed some easy to use sales tools that took me from being extremely frustrated as I was waiting on customers to making it a pleasant experience for both me and the customer. I am now here to help you create your own tools to make it easier for you and to help you be able to spend less time with the customer and more time with your production. 
I now want to share these tools with you and show you how to make your own set of Sales Tools so that you too can experience how easy it is to wait on customers and not take up very much time.  Your customers will be able to make their buying decisions very quickly based on your easy to use Sales Tools and selections! 
Introducing:

Simple Embroidery Sales Tools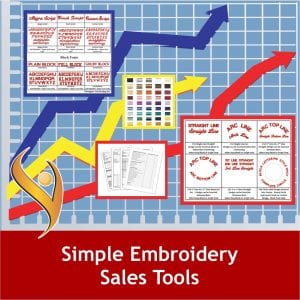 As embroiderers, we want to be able to offer our customers a full range of lettering and design options but in the process of doing so, we sometimes have the tendency to over complicate the process causing us and the customers unneeded frustration. There are 5 simple tools that will help to save time and speed up your customers ordering process. These tools are easy to make and I even show you how!
• Embroidery Design Layout Options
• Limited Lettering Style Options
• Samples Tagged With Ordering Information
• Thread Chart
• Organized Ordering System & Production Flow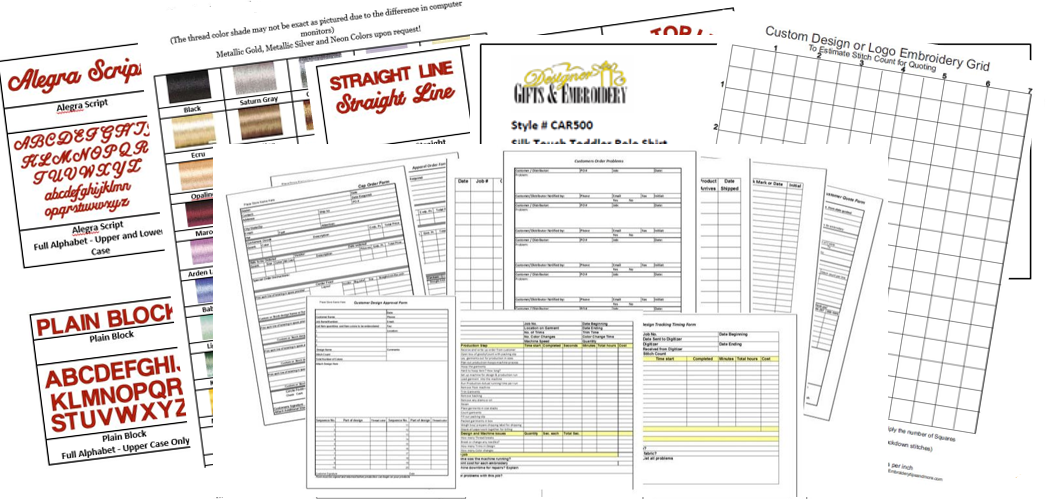 Having The Right Sales Tools Saves You Time
As You Are Waiting On Your Customers!  
You, Will, Be Saving Your Customers Time And For That, You, Will, be Appreciated!
Create Sales Tools The Easy Way – Just follow the Step by Step System. I give you links to use to get the right information and I show you exactly how to create each one. This is a huge time saver!
Create Sales Tools  For All Your Apparel Decorating Services Beyond Embroidery –   The same program is set up so that you can create sales tools for each department within your business! Once you have your embroidery sales tools in place, you can repeat the process and create additional sales tools for all of the other apparel decorating services that you offer!
Increase your Production – Once you have your sales tools created, you will always know how much time you have to spend with a customer and you will be able to increase your production! 
Increase Your Sales – Your customers will have complete confidence in you and your ability to handle their order correctly and professionally. When you conduct business in a professional manner, have the right tools in place, a high-quality product, and great customer service, you can even charge more. This works the same for the home-based business as it does for a business with a storefront.
Organized Production Flow – You will have access to all of your Production Forms and I show you how to use the forms and create a good production & paper work flow!
As a bonus, I even give you my Quoting Tools so that you can give your customer an instant quote while they are waiting!  This alone is worth much more than the price to learn how to create all of your sales tools!  I even show you how to create a quote!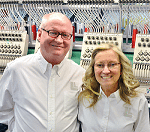 When I use the Sales Tools the order flows really nicely. I found it so much easier and quicker when I had my sales tools created!