Sign up for our next

FREE Embroidery Monthly Training

to be held be on April 5th, 2018!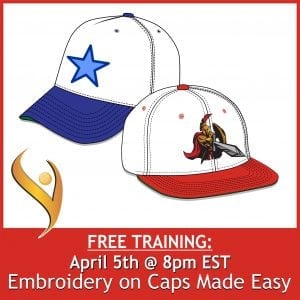 "Embroidery On Caps Made Easy!"
Embroidery on caps has always been a big money maker for me and caps can be one of your biggest money makers but so many embroiderers do not even go near caps because they gave them a problem the first time that they tried to do caps so they refuse to do them.  This can be a Huge mistake.
• Proper Placement of Design on the Cap
• Solving Common Issues
•

Hooping Tips



Fill in your Name & Primary Email Address to get
signed up for the very valuable FREE training.
Everyone including Members 

of The Embroidery Training

Resource Center Must Register To Attend!