"Learn The

Secrets Of How To

Price Embroidery

That Will Make You A Profit!"
"Pricing Your Embroidery Wrong Is The One Mistake




You Cannot Afford to Make!"
Do You Spend Hour After Hour Working In Your Embroidery Business And Feel Very Unrewarded?
For many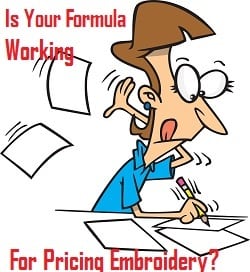 years I worked very hard trying to make a living with my embroidery business and no matter how many hours I put into it or how hard I worked, I just could not seem to make ends meet! I thought that I was charging right, but I was constantly plagued with the question,
What should I charge for embroidery?
Am I doing this right?
I could not understand what I was doing wrong.I was at the point where I had to make a decision, either I figure out how to turn this business around or close the doors! I could not do that; I had 32 employees at that time and they depended on me! That alone was a huge responsibility!
Here Are Just a Few of the Mistakes that I Made!


Can You Relate to Any of Them?



I created my price list like everyone else did. I gathered price lists from the other embroiderers and averaged them out. That was my Price List!
I also charged by stitch count alone, because that is what everyone else was doing! Are you making the same mistake?
I was absorbing all of the other costs that went into the ordering and production process! Who was paying to get the design ready for the customer? Who was paying for me or someone else to organize the order before production? Who was paying to hoop the garments? What was paying to finish and pack the garments? I was and that is not the way that it is supposed to be!
I would lower my prices when a customer said they could get it cheaper from a competitor! I thought that a little money was better than none at all!
My employees were getting paid well, week after week! I was getting nothing but a big fat headache!
I was clueless when it came to how to price my embroidery! I just doing what everyone else was doing! That was not the way to go, but I did not know any different! I had no business background and up until a short period before my accountant started helping me, I did not even have an accountant!
My Accountant Came To The Rescue!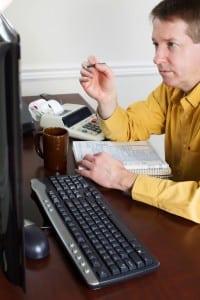 I finally sat down with my accountant and he told me that I need to raise my prices. I was scared to death to raise my prices; I would lose all of my customers! He told me that I needed to start keeping track of every movement that I made in my shop. At first I thought that he was way off base and did not understand how my business worked. I thought there was no way that I could track everything, but he showed me exactly how to do it!.
After a week of keeping track of all of the steps that actually went into each job, I discovered that I had been loosing a lot more money than I originally thought! I also discovered that I had no choice but to raise my prices! I was giving all of my work away and absolutely not making any money! My employees were the only ones that were benefiting from this business! I was not getting anything from it except a huge headache and a lot of sleepless nights!
Are You Sick and Tired of Working So Hard and
Not Making Enough Money?
I understand exactly how you feel ! I felt exactly the same way. I knew all along that I needed to raise my prices but how could I do that and not lose my customers? I was working way too many hours a week, but I was not making enough to even take home a paycheck! I sat down and cried every time I had to write out the paychecks! There was never enough money left for me! Are you able to take a paycheck from your embroidery business? My accountant said this was no way to run a business and we was right! If you too are wondering, what should I charge for embroidery, this is the solution for you!
Introducing: How to Create a Profitable Embroidery Price List The Embroidery Pricing Program That WORKS!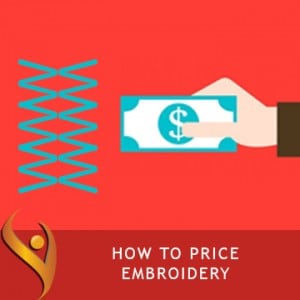 I developed a Simple System to show you how to price embroidery and help you create your own profitable pricing structure! This is the same system that I used in my business to take my business from a deep red hole into seeing a profitable bottom line! This program is an online video based program that teaches you step by step exactly how to create your own Profitable Embroidery Pricing Structure!
My accountant helped me create spreadsheets that I could use to start putting my system together and I was totally amazed at the result of using them at the end of the first week! I realized immediately how much money I had been losing. My employees were not happy at first because this also meant that they had to fill in a form that they were not used to doing! After the first week, they were OK. It gave them a chance to see the positive growth and they were thrilled that they were a part of that positive growth!
Did I lose customers when I raised by prices? Yes, I did, but they were the people that were working with us because of our low prices. The customers that were interested in high quality embroidery stayed and I rebuilt from there! This was the beginning of not working so hard to bring in enough to pay the bills!
This Simple System is going to give you a total new lease on life and bring new life
to your business!

Here are Some of the Fantastic Benefits You Will Receive After You Have Created Your Own Profitable Embroidery Pricing Structure!
Complete Workbook of Formatted Spread Sheets!
These formatted spread sheets can be used over and over. You will be able to create your profitable embroidery price list quickly! When you update a cost change on your basic cost sheet, all of your figures are automatically updated creating a new price list without any additional effort! This is a huge time saver!
Embroidery Machine Production Scheduler!
You will be able to schedule all of your embroidery jobs and know exactly how long the entire job is going to take you or your production staff. You can figure exactly which jobs should be scheduled for the day and in which order. With this Embroidery Machine Production Scheduler you will know how many hours of embroidery work you have in house at all times!
A Simple Organized Production System!
Do you have customers that want their jobs done in a hurry! With this Simple Organized Production System you will be able to see where you can slide in a Rush Job without interfering with your regular production schedule.
Generate Price Quote Quickly!
Your customers and prospects will benefit from your ability to give them an instant quote! If you are bidding a job, you will know exactly how far down you can go with your price and still make a profit, No guess work! This feature is huge when you are in a bidding war!
Program Can Be Used To Price All Your Services
The same program is set up so that you can create price lists for each department within your business! Once you have your embroidery pricing structure in place, you can repeat the process and create additional price list for all of the other services that you offer, a price list that will create a profit for you in each area!
Increased Sales!
Your customers will have complete confidence in you and your ability to handle their order in a professional manner! When you have a high quality product, great customer service, have your tools in front of you at all times and act like a real business, you can charge more. This works the same for the home based business as it does for a business with a store front!

Here's a Sample of What's Waiting For You inside of the Members Area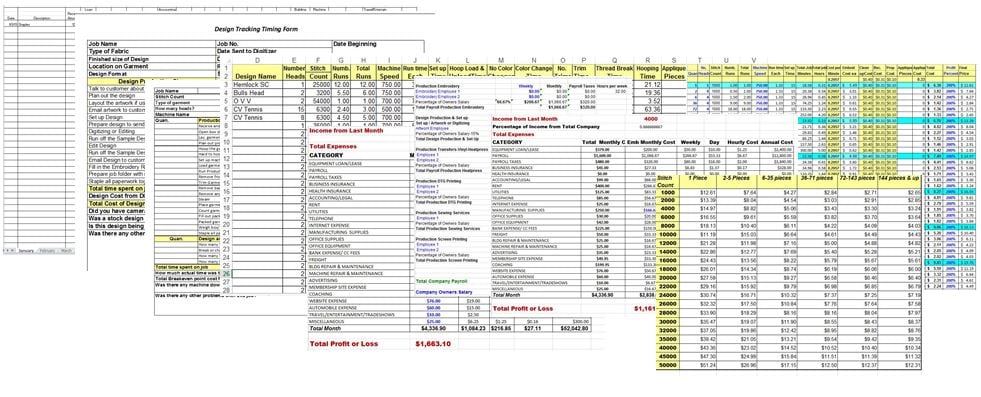 Artwork Tracking & Timing Form
Production Tracking & Timing Form
Department Spreadsheets
Embroidery Company Payroll Sheets
Expense Spreadsheets Workbook
Cost Analysis Spreadsheet
Embroidery Machine Scheduler
Business Forms
Total Pricing Workbook
Simple Systems Delivery Method
Quoting Tools
This "How To Price Embroidery" Program Gives You All Of The Tools That You Need!
It will teach you how to find your Breakeven point!
Gives you all of your sheets for timing your processes!
Formatted Price list that includes products so that you can add a cost for a product and it will automatically give you what you should charge your customer for the combination of the product & service in whatever quantity that you want!
The spreadsheets & lists are all formatted for you so that you do not have to figure any of that out for yourself!
A huge time saver, especially when you want to give a customer a quote on the fly or update your list list or add a new machine or whatever changes you make in your business!
Module 1: How to Overcome The Myths of Pricing and How To Start Keeping Track
Videos showing you how to get started with the entire system!
Formatted Excel Spread Sheets to use as you are getting started keeping track!
Videos showing you how to use each one of the spread sheets!
PDF files explaining each of the spread sheets!
Link to FREE program to use if you do not have Microsoft Office. This Free program will work with all of the spread sheets in the program!
Module 2: Gathering & Formatting all of the Necessary Information
Videos to show you how to start collecting your information to create your own Pricing Structure!
Excel Forms & Spread sheets to help run your business more efficiently!
Embroidery Machine Production Scheduler Easy to Use, totally formatted to create your own efficient production flow!
Videos to show you exactly how to use the Spread Sheets and Forms!
Video to show you how to use the Embroidery Machine Production Scheduler!
Module 3: Creating Your Own Pricing Structure
Video that will show you exactly how to create your won Pricing Structure!
Downloadable Pricing Structure Workbook!
Video showing you how to use your Pricing Structure Workbook!
Embroidery Order Forms-These simple to use order forms can be formatted with your own company information. These forms are easy to use and are great reminders of all of the extra charges that should be included in your pricing structure. They are spelled out on these order forms!
Module 4: How To Create The Price List That Will Work In Every Situation
Video showing you how to create your Price List and how to Keep it Simple!
PDF file showing you how to keep your formats and choices simple and how to simplify your price list to give your customer a price instantly!
Downloadable Pricing Structure Workbook with additional embroidery and garment pricing in one simple package!
More Forms and Spread Sheets to make your business run more efficiently!
I Created This How To Price Embroidery Home Study Course Specifically for Embroiderers Like You That Want to Start Making a Profit in Your
Embroidery Business!
It is time for you to start charging what you should charge for your embroidery like the professional that you are so that you can actually make a living from your business or at least give you a good supplemental income. With this program you will get all of the tools to be able to make that happen!
Get started today before the price of this program increases! This new version has so much more to offer. You can grab this program for an investment of only $197.00 Limited Time Only!