If you currently offer your customers monograms, you can now offer them custom one of a kind monogrammed gifts for the holidays. This will help them to create lasting memories for their loved ones during this holiday season!
The Holiday season is when we like to connect with family and friends that we do not see on a daily basis. This is the time of year when many special memories are created or brought into the forefront of our minds. I love this time of year!
When I was growing up we did not have very much in the way of material things but my mother always made Christmas very special and I will never forget all of those special holidays!
December is the month of many winter weddings and this is the time when we like to offer our customers a little something special. During the holiday season most embroiderers get requests for monogrammed gifts from their retail customers as well as their business customers that are in the market for employee gifts.
This is also the time of year when you have more customers coming into your shop than normal and they are looking for something new that they have not seen before. This gives you the opportunity to showcase many of your new ideas and helps you gain more customers that will be back to shop during the coming year. One of a kind monogrammed gifts are always popular for the holidays, weddings, bridal showers and house warming gifts!
Offer Your Customers The Option of One of a Kind Monogrammed Gifts

When I first started getting requests for monograms that I did not have the font for it was so frustrating to me. I did not have the money to invest in fonts to create one or two monograms. During this frustrating time, I learned how to edit the fonts that I had in order to create one of a kind monograms that my customers loved. These one of a kind monogrammed gifts can become heirlooms that help create the same warm feeling of memories that are created during the holiday season.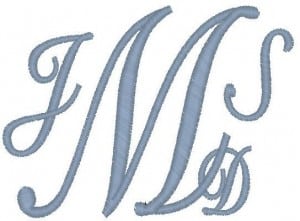 I am offering a special discount on the How to Create Beautiful Large and Small Monograms program that I have created that teaches you how to edit your standard embroidery fonts and work with true type fonts to create your own line of one of a kind monograms.
This on line video training program will show you step by step exactly how to create beautiful heirloom monograms and how to create full monogram sets from washcloth size to shower curtain size. You can watch me while I show you exactly how I accomplish this. I have even included a special heirloom type font that I digitized for you so that you can offer something very special quickly for the holidays!
This is what made a huge difference in my business and I was able to offer my clientele something very special that no one else in our area could offer! This was pretty exciting to me and it helped me to build up a high end clientele.
Go to HowToCreateMonograms.com and place your order today so that you do not miss out on this amazing opportunity to be able to offer your customers something really special in one of a kind monogrammed gifts for the holidays! Get immediate access to these on-line videos teaching you how to create these beautiful one of a kind monograms!