Do you find yourself frustrated when you have to stop to wait on a customer?  Is your customer ordering process taking up too much of the time that you need to spend on your production? Helping customers make quick buying decisions can sometimes be very frustrating. I want to talk about how you can cut back on the amount of time that it takes you to help your customers make a final decision. My Inner Circle students know how important this is and it is a priority in setting up your business to run properly!
As embroiderers, we want to be able to offer our customers a full range of lettering and design options but in the process of doing so, we sometimes have the tendency to over complicate the process causing us and the customers unneeded frustration. There are 5 simple ways that will help to save time and speed up your customers ordering process.
Embroidery Design Layout Options
Limited Lettering Style Options
Samples Tagged With Ordering Information
Thread Chart
Organized Ordering System
Embroidery Design Layout Options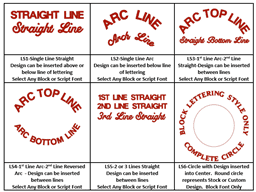 Create several Design Layouts Options for your customer to choose from. By giving your customer choices of different layouts for him to look at before he places his order, you prevent him from asking you to create his logo with several different options for his approval.
These Design Layout Options save time and instill confidence in the customer that you know what you are doing and know what the best option for him or his logo will be.
Limited Embroidery Lettering Style Options
In each of the embroidery software packages today you have many lettering styles to choose from and it is very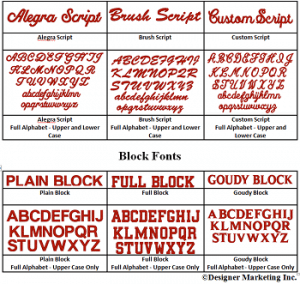 tempting to want to show our customers all of the lettering styles that we have available.
By limiting the embroidery lettering style options, you not only save time working with your customer in their selection, but you also save time in the setup of your lettering designs. If you are only working with a few lettering style options, you can have templates made ahead of time with all of the style settings included in the template. This is a huge time-saving process when you are creating your customer's design setups!
Sample Tags With Order Information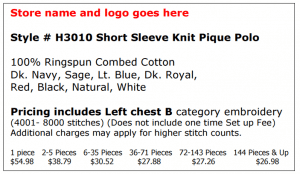 Your showroom should be complete with high-quality embroidery samples that are tagged with all of the order information that is applicable to that product sample.
Having all of your samples tagged ahead of time with the appropriate information will save you a lot of time and prevent you from having to look up the information in the catalogs. As your pricing changes, so do your Sample tags. Always keep them up to date with all of the correct product and ordering information!
Your Own Company Thread Chart
Creating your own company thread chart is very important.  You should never offer to show the customer the thread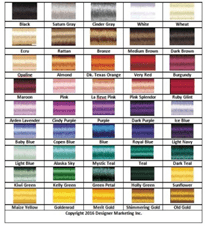 chart from the company where you purchase your thread.
Many embroiderers order the thread that their customers want and end up spending their entire profit for the job or more just because they do not have that particular color in stock. The thread then sits on their shelf and very often rots because no one else is going to use that particular color.
If they are not happy with your selection, offer to order their custom color but make sure that they understand that there will, in fact, be an additional charge for this service. You will need to charge for the thread as well as the shipping into you.
An Organized Ordering System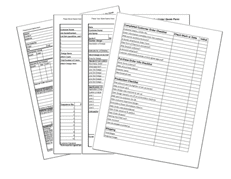 An organized ordering system is simple to put into place. This is true when you have all of your information computerized and even if you are using paper forms to be filled out while you are waiting on the customer. You can create Sales Order Packets with all of your forms included so that you do not have to look for your information forms while you are working with your customer. Inside of this Sales Order Packet, you should have:
Customers Quote form
Your Order Form
Form of Payment
Production Timing Form
Artwork Production form
Packing Slip
Checklist
I have gone over 5 ways to help customers make quick buying decisions. You want the order process to be a pleasant experience for both you and the customer. When you offer your customers so many options they only get confused and it takes longer for them to make a final decision and sometimes that final decision is no decision. Reducing the number of choices you have to offer will save you and the customer a lot of time and will help customers make quick buying decisions!
To get started with your Embroidery Sales Tools click here!