Saving time – Helping customers make quick ordering decisions can sometimes be very frustrating. Is your customer ordering process taking you too much time away from your production time? I want to talk about how you can cut back on the amount of time that it takes you to help your customers make a final decision.
As embroiderers we want to be able to offer our customers a full range of lettering and design options but in the process of doing so, we sometimes have the tendency to over complicate the process causing us and the customers unneeded frustration. There are 4 simple ways that will help to save time and speed up your customers ordering process.
Embroidery Design Layout Options
Limited Lettering Style Options
Samples Tagged With Ordering Information
Organized Ordering System
Today we will talk about the first in this series, the Design Layout Options.
Embroidery Design Layout Options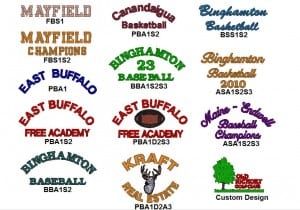 Create several Design Layouts Options for your customer to choose from. By giving your customer choices of different layouts for him to look at before he places his order, you prevent him from asking you to create his logo with several different options for his approval.
These Design Layout Options save time and instills confidence in the customer that you know what you are doing and know what will be the best option for him or his logo.
Create Design Layout Sheets with several design templates that you have you already set up in your embroidery design software. Give each one of these design templates a Style No. When the customer orders a specific style no. you can quickly recall the design template from your system that he has ordered, change the lettering to what he or she is asking for and your design is ready to be sewn out.
You can create two sets of identical design templates, one set to be sewn on woven fabrics and one set to be sewn on knit fabrics. These two sets of Design Layout templates will work for 95% of your customers garment or fabric choices.
Click on the picture and you will see a larger view of the Design Layout Options
Helping customers make quick ordering decisions helps your business in several ways!

You look more professional

It save a lot of your time and the customers time
You have more time for production
You will bring in a lot more revenue!
In Part 2 of this series, I will talk about Limiting Lettering Style Options.
Joyce Jagger
The Embroidery Coach