In Part 1 of Saving Time-Helping Customers Make Quick Ordering Decisions, I talked about how to Create several Design Layouts Options for your customer to choose from. During Part 2 I am going to talk about limiting your customers lettering style options.
Limited Embroidery Lettering Style Options
In each of the embroidery software packages today you have many lettering styles to choose from and it is very tempting to want to show our customers all of the lettering styles that we have available. Many new embroiderers make the mistake of offering all of these styles to their customers and letting them chose which one they want to use.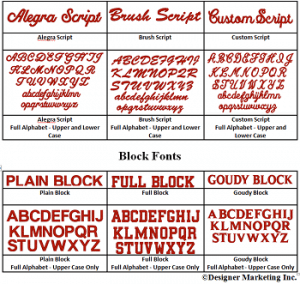 In order to do this, you must sew out every embroidery font that you have available and know what the capability and size restrictions are for each one. This takes a lot of time and is totally unnecessary. Our customers get so confused when they are faced with so many choices. I have found that the best way to handle this is to offer 2 or 3 Block lettering styles and 2 or 3 Script lettering styles. This is enough for them to choose from and will prevent the customer from being overwhelmed with your vast selection.
By limiting the embroidery lettering style options, you not only save time working with your customer in their selection, but you also save time in the set up of your lettering designs. If you are only working with a few lettering style options, you can have templates made ahead of time with all of the style settings included in the template. This is a huge time saving process when you are creating your customers design set ups!
In our next Saving Time series, I am going to talk about tagging your samples with the correct ordering information!
Joyce Jagger
The Embroidery Coach